If you happen into our store, at Bahoukas Antique Mall, you'll realize it's also a great tourism info center!! George even keeps menus from all the local restaurants so that when folks ask, "Where's the best place to eat in town," he can give you all the choices. Of course, our motto is:
"You can't have a favorite restaurant. You have to come back often enough
to have your 'favorite' at every restaurant!"
Restaurant Menus
Collecting old menus tells us more than just the difference in prices, it also helps us learn locations. And our 'casual historian' has a good start on his restaurant collection.
The Bank Restaurant was open for about a year. It was started with Cecil Hill and a couple of friends. They were construction guys, not particularly restauranteurs. So they were lucky when Dan Lee came along and bought it. Of course, it's now MacGregor's, at the corner of St. John and Franklin Street.
Remember that you can click on a photo to zoom in a bit!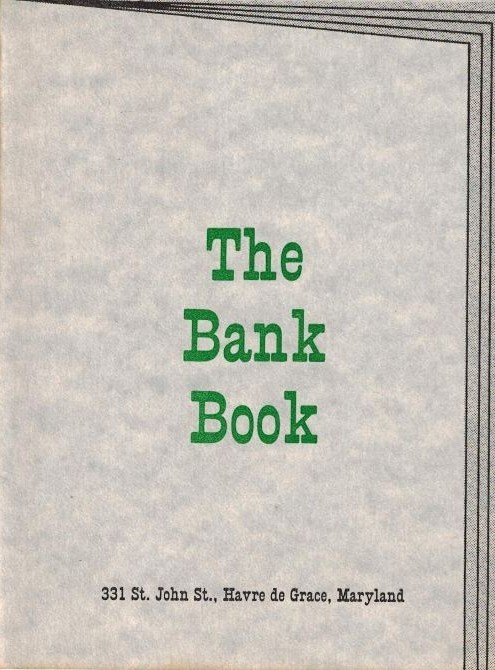 Where the new Ultimate Drink Cafe is now, at 811 Revolution Street, Havre de Grace, there were many take-outs/restaurants/etc. Check out this gallery of some of the others! You may remember Joyce's Juicy Burgers and Rita's as well.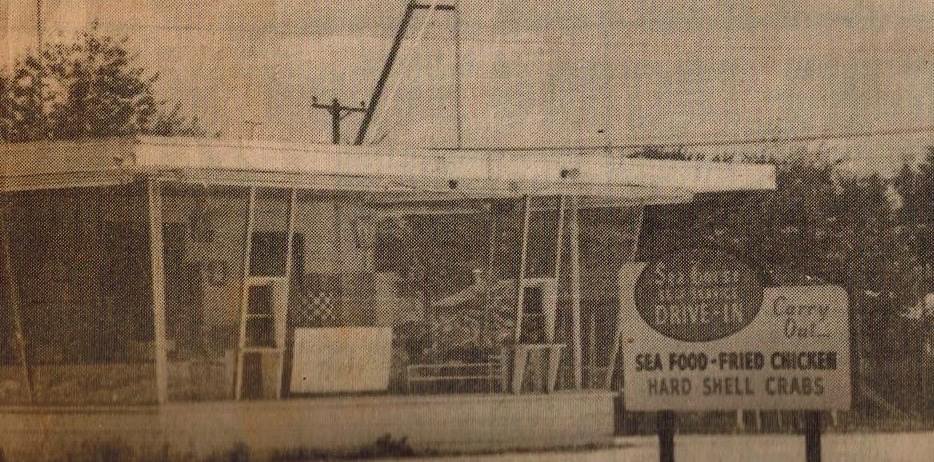 Another interesting corner that housed a variety of eateries is 100 N. Washington Street where Les Petits Bisous and the delicious French macarons can be purchased. We have menus from Webe's and Sweet William's. The Havre de Grace Ritz also had its start at this location.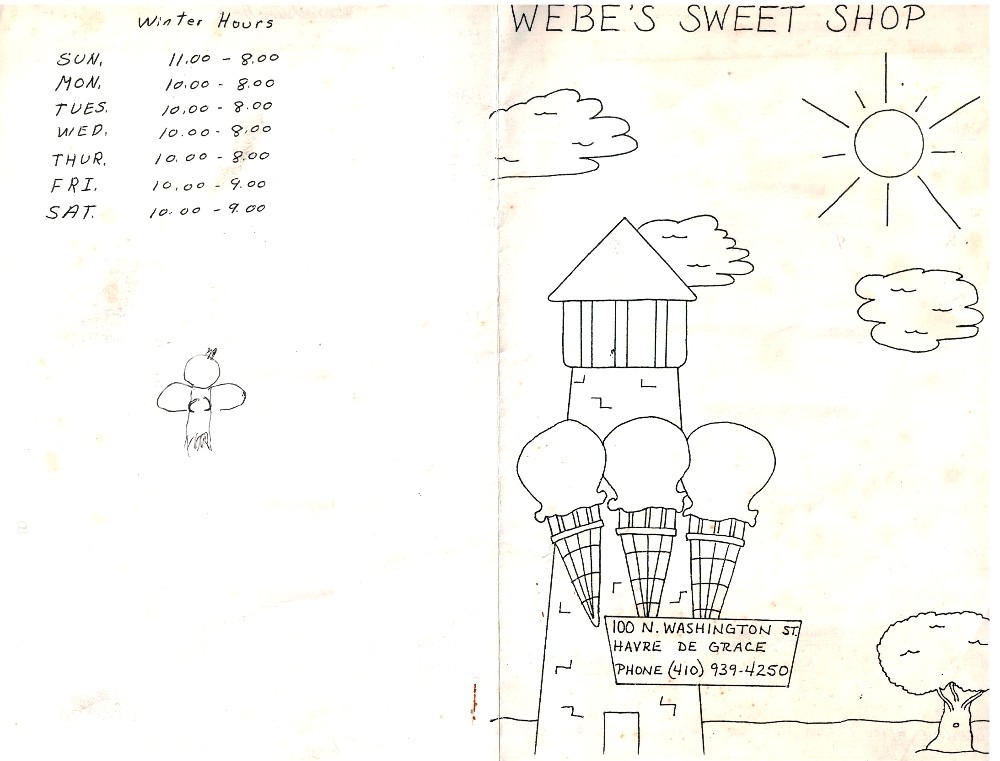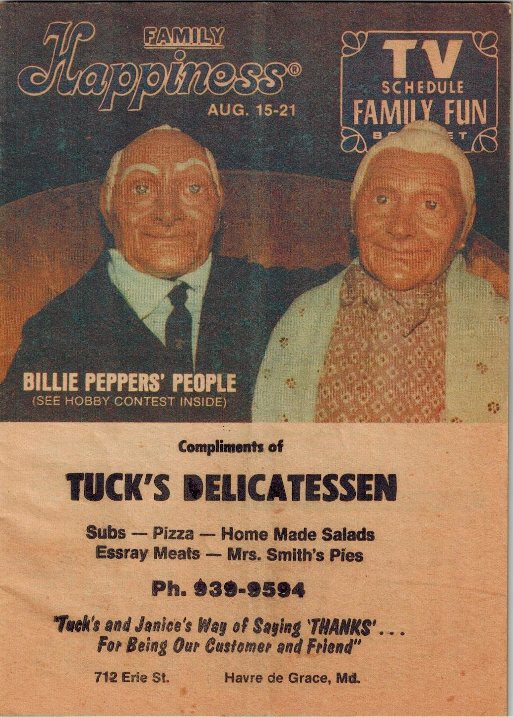 If you're familiar with Sam's Deli, (this is a link to the 'unofficial' Facebook page, but great info), you might remember TUCK's Delicatessen, at 712 Erie Street in Havre de Grace. That area had other eateries as well.
Speaking of deli locations, we want to share this photo of Wallett's Market which had a great deli in its day! It was located where the Royal Farm is now at Revolution and Juniata.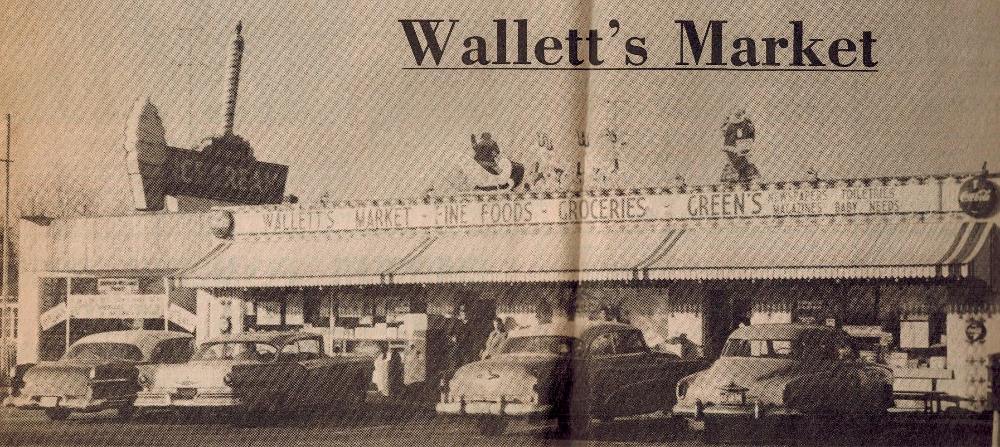 Many folks remember Vancherie's Restaurant. Then it became Vancherie's Family Restaurant, Vancherie's Union Ave. Cafe, a Mexican restaurant, and then Chiros. It's now the home of Coakley's Cornerstone Liquor Store at 419 N. Union Avenue.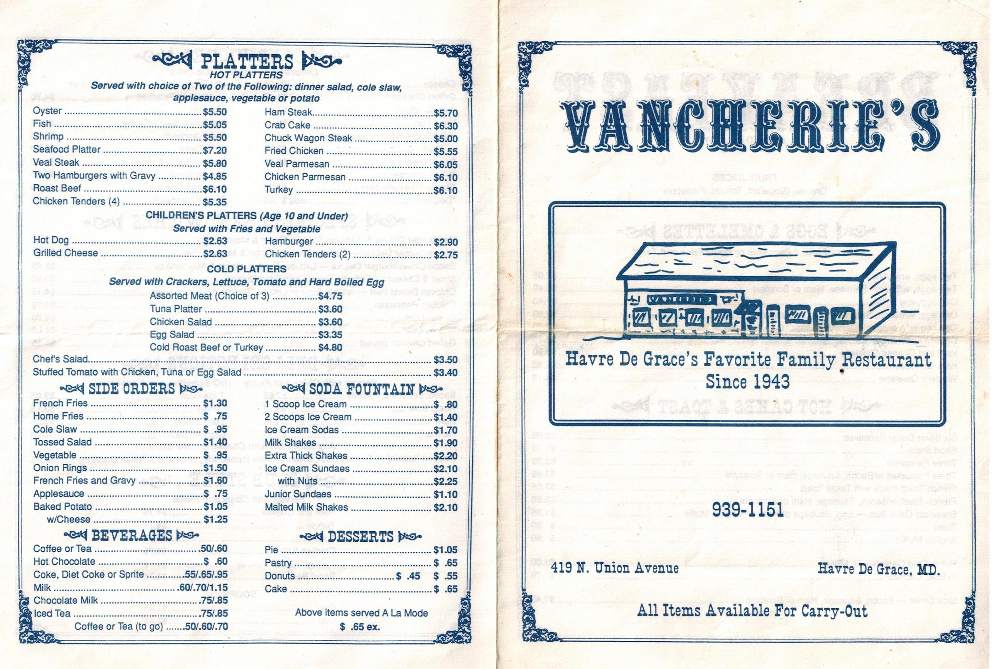 It seems that ice cream has been a favorite in Havre de Grace for many years. Where Laurrapin Catering is presently located at 209 N. Union, there was Ice Dreams. Of course, you can't talk about ice cream without mentioning Bomboy's HomeMade Chocolates and Bomboy's Ice Cream, located at 322 and 329 Market Street. Perfect stop when walking from an event at Concord Point or Tydings Park, heading into downtown!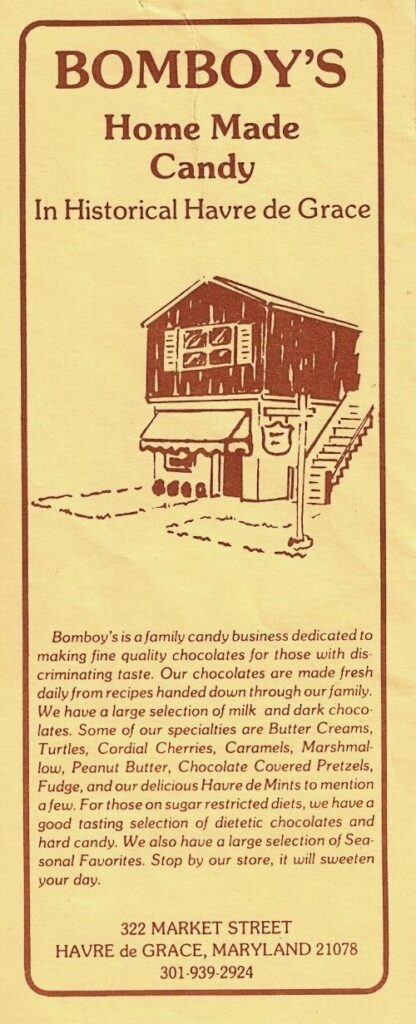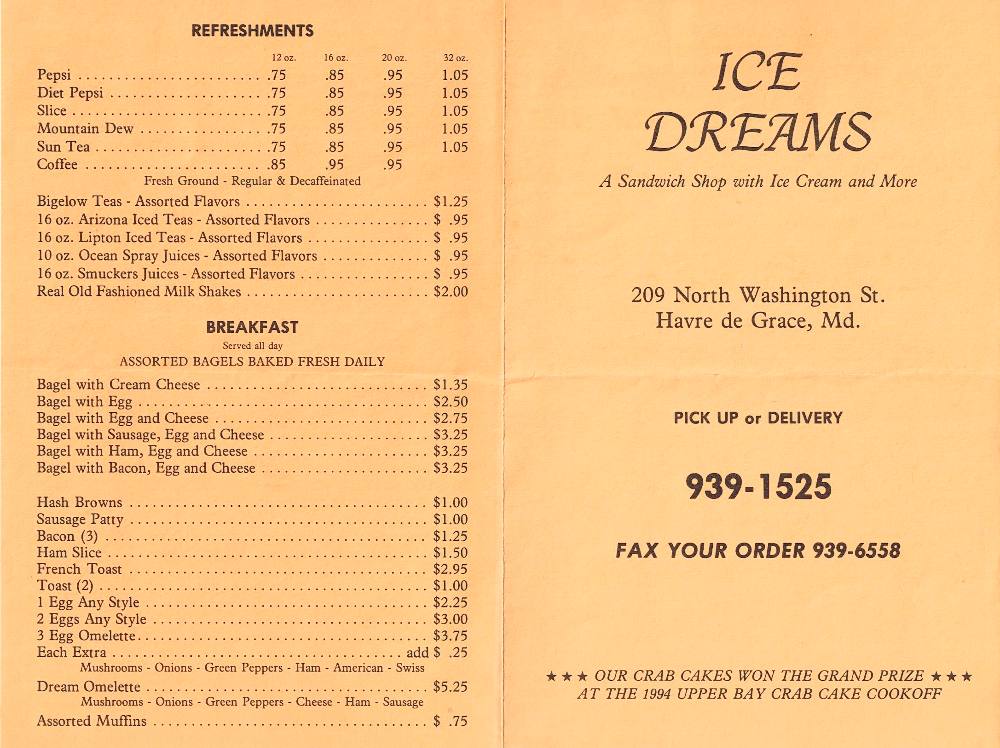 And let's not forget THE BIG CONE out on Route 40. Speaking of which, don't miss MISS TWIST at 1834 Pulaski Hwy (Route 40).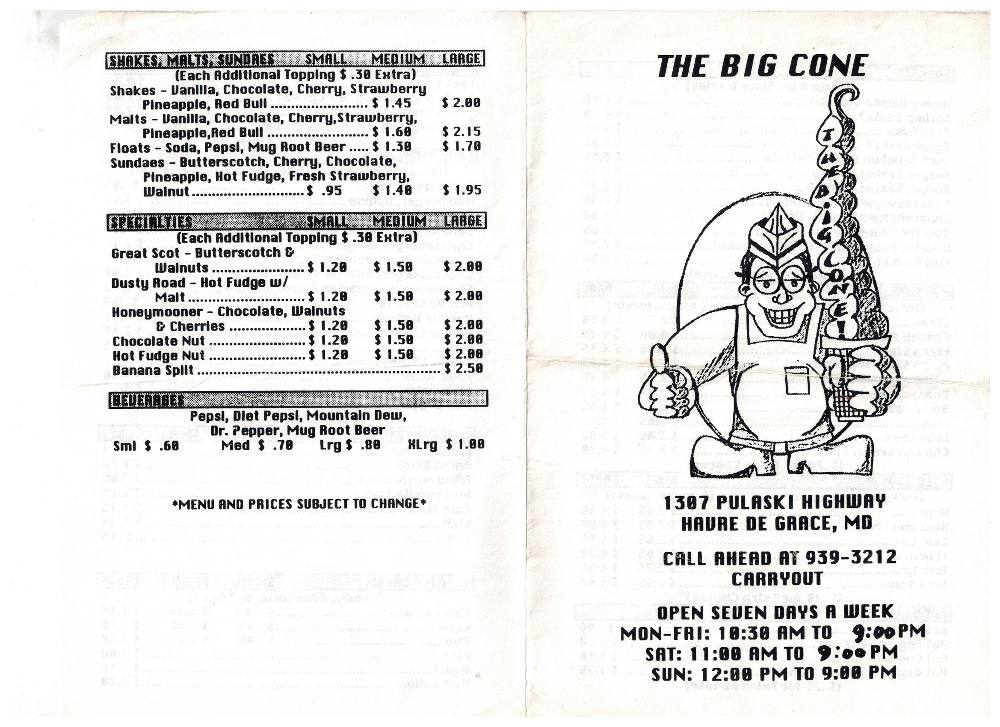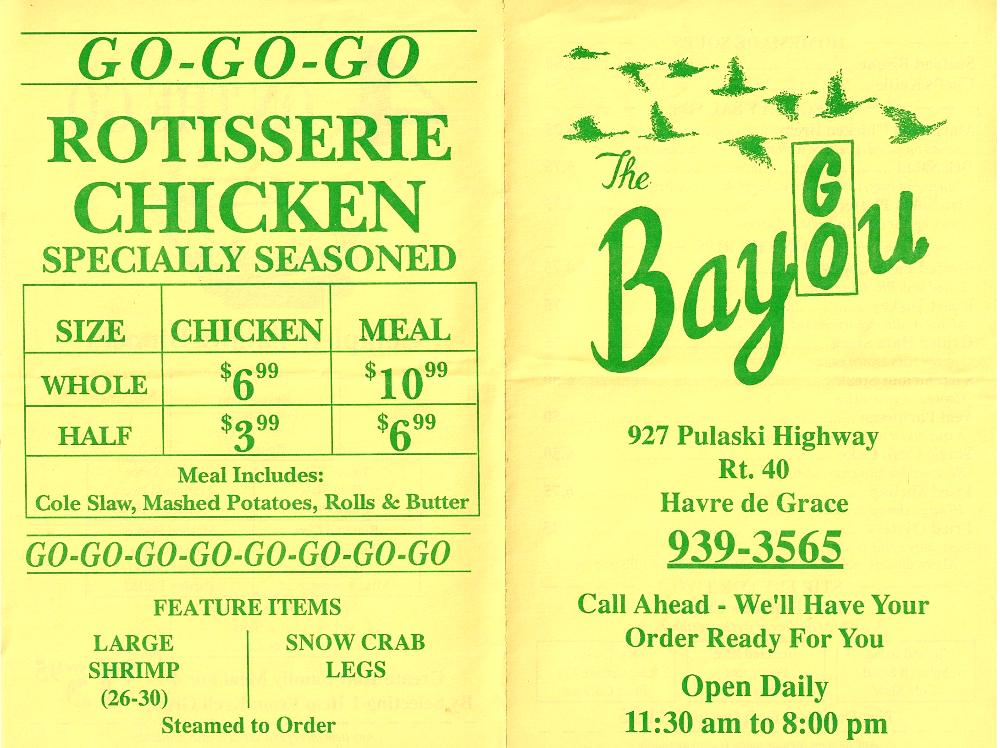 Our 'casual historian' mentioned San Lin Gardens, and many still remember the huge BUDDHA that drew your attention. It's now the home of the Chesapeake Grille. Also on Route 40 was the Bayou Restaurant (now closed). We have the 'to go' menu and we also have the phone booth and other memorabilia from the restaurant.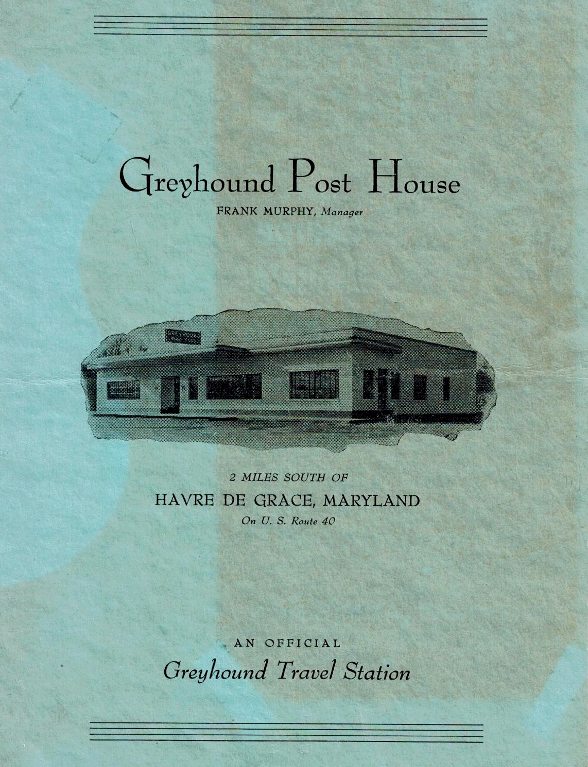 And years ago on Route 40 was the Greyhound Post House Diner.
Amazingly, this is the tip of the iceberg for the history of restaurants, eateries, pubs, carryout locations, and, of course, pizza in Havre de Grace.
If you have a restaurant menu to share with our 'casual historian,' we would welcome it to our Havre de Grace History MuZeum in Bahoukas Antique Mall. If you have an updated menu you'd like to give George so that he can share it with tourists when they ask, drop it off.
REMEMBER, don't throw the Havre de Grace 'stuff' out when you're cleaning out a home, settling an estate, or just 'downsizing,' without checking in with George. Don't give him cause to cry!!!
Our 'casual historian' is always waiting for your stories and any memorabilia you may want to share.
Please SHARE these posts and SUBSCRIBE to his youtube channel.