Of course, as we prepare for the July 4 Holiday, (our parade, concerts, and fireworks are Sunday, July 2, 2023) it's wise to remember that every year many people are hurt playing with fireworks at home! So we ask you to PLEASE be careful.
Commercial Novelty Co. Blast, 1945, Havre de Grace
In the meantime, we can share several stories of fireworks factories in Havre de Grace that had damaging fires and explosions. The first one took place on October 24, 1945. Our 'casual historian' learned about this from one of his customers. It was an explosion at the Commercial Novelty Co. plant just north of the city.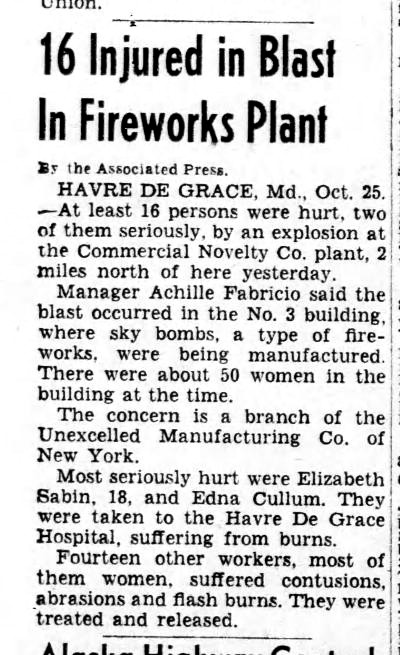 Manager Achillo Fabrizio said the blast occurred in the No. 3 building where sky bombs, a type of fireworks, were being manufactured. There were about 50 women in the building at the time. (This company was a branch of Unexcelled Manufacturing Co. of New York).
Most seriously hurt were Elizabeth Sabin, 18, and Edna Cullum. They were taken to Havre de Grace Hospital, suffering from burns. Fourteen other workers, most of them women, suffered contusions, abrasions, and flash burns. They were treated and released.
Our 'casual historian' George met the sister of Elizabeth Sabin, who was 18 at the time of the fire. Her sister, Lillian Sabin Brooks, shared that Elizabeth lost some fingers and she lost an eye as a result of this explosion. She's 97 today and he's waiting patiently for a message from Lillian that Elizabeth is willing to sit on her porch and share a bit of her story. Yep, he's excited.
We would also love to hear from someone who knew Edna Cullum and would chat with our 'casual historian.' Please visit George at Bahoukas Antique Mall at 408 N. Union. Of course, we're always looking for stories and photos.
Possibly Another Explosion – 1953
NOTE: It seems that there may have been a fireworks explosion in 1953 as well. Here's an excerpt from a court case:
If you have information, stories, or photos, do contact George, our 'casual historian.'
Havre de Grace Fireworks Co., Explosion 1960
It occurred on February 9, 1960, and was heard several miles away. It broke windows and caused other damage in many homes nearby. Amazingly it took only an hour to get control of the fire, even while being blocked by continuing blasts!
Almost miraculously, only two plant employees died and three outsiders – women – were injured. Dead were: the owner, James Archer Fabrizio, Jr., age 31, and Mrs. Nellie Stansbury, age 62, who collapsed in a Chapel Road home and died 4 days later at Harford Memorial Hospital, resulting from a heart attack. (view article below).
Here are some photos from the newspaper article. Remember, George has these at the store where all of the Havre de Grace History MuZeum collections are.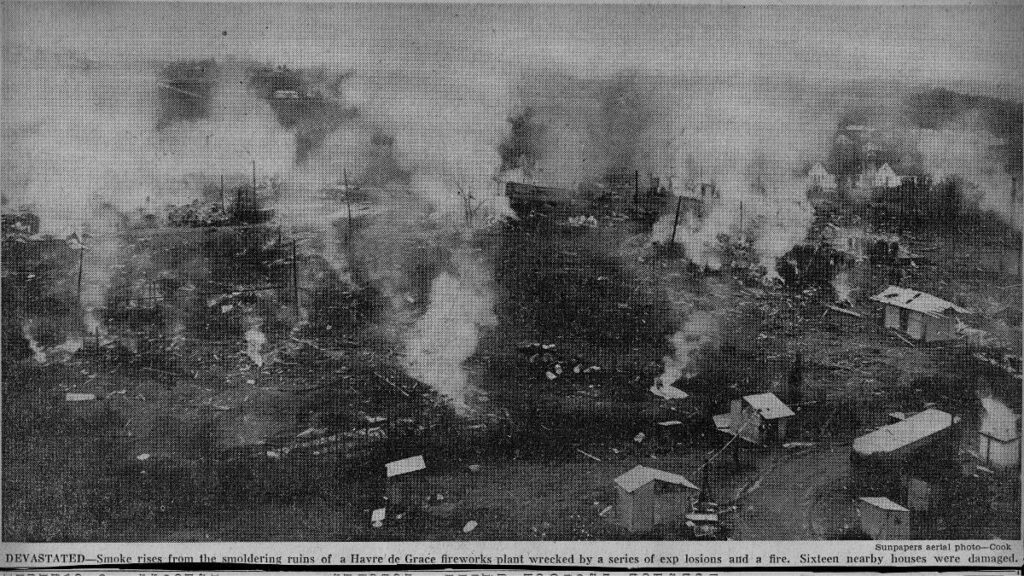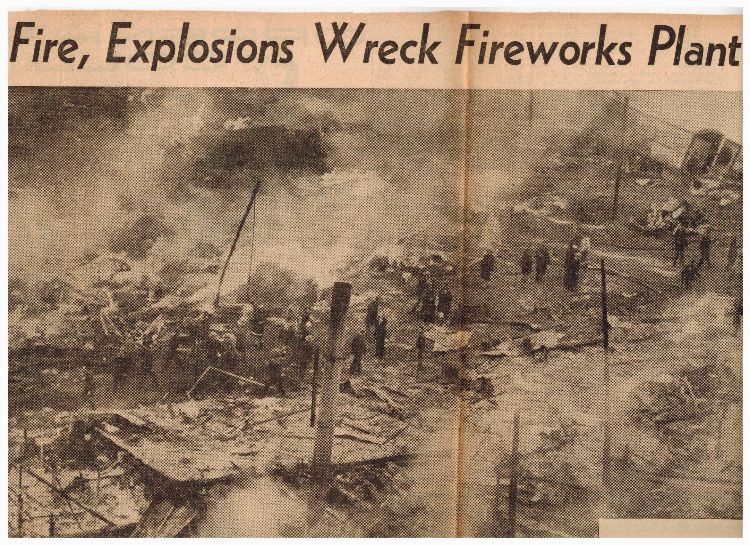 In our 3rd of 3 videos related to July 4th celebrations and fireworks, we'll be talking about our Independence Day Parade with decades of being the highlight of Harford County.
Remember, don't throw the Havre de Grace 'stuff' out when you're cleaning out a home, settling an estate, or just 'downsizing,' without checking in with George. Don't give him cause to cry!!!
Our 'casual historian' is always waiting for your stories and any memorabilia you may want to share.
Please SHARE these posts and SUBSCRIBE to his youtube channel.