In 2019, meeting Catherine Williams Burks had a very specific goal. I wanted to learn about a social organization, Les Charmantes. I had heard about them from Pat Cole of the Havre de Grace Colored School Museum and Cultural Center. They were celebrating 66 years of community and service!
As a new member of the Soroptimists International of Havre de Grace organization, I was particularly interested in learning about Les Charmantes. The interview offered so much more.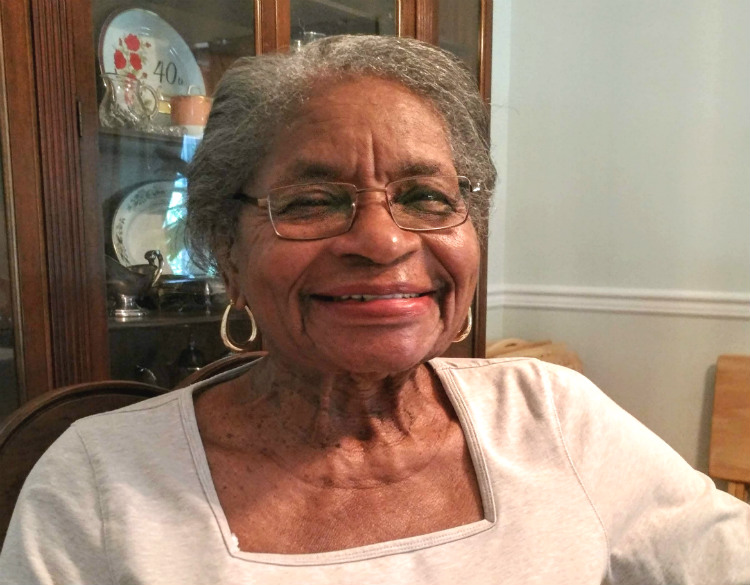 Catherine Williams Burks
b: 5/3/1930
Interviewed: 10/2019
Catherine Burks is a most beautiful woman. As she talks, she has a smile that makes you wonder if she's remembering something funny, or just a secret she might not share. At 89, it's probably a wee bit of both.
She is warm, gentle, and still active at 89 years young. I was thrilled to have spent nearly three hours with her. Of course, I can't include everything here. But I do want to share the Les Charmantes story and their 50+ years of scholarships offered to area students (both college and trade schools).
In 1951, Catherine was accepted as a mathematician at Aberdeen Proving Ground. Having been away at college and teaching for a year before starting at APG, she realized she'd lost contact with many of her high school friends. Thus began a meet-up of 15 career women over 66 years … and still going strong … and still offering scholarships to young women going to college or trade schools.
Catherine lives on Old Robinhood Road beyond Robinhood Paint Ball. She shares how her father acquired the 70 acres, walked to Swan Creek School back in 1936, attended high school at the Havre de Grace Colored School, attended Morgan College, and taught for a year until, through her persistence, she gained her dream job as a mathematician at Aberdeen Proving Grounds at a challenging time for a Black woman to entertain such a dream. It's a wonderful story of family, community, dreams, and success.
Enjoy this wonderful and inspiring interview. Because it's a long interview, I've highlighted some timestamps for specific topics. Enjoy!
Begins with her desire to do something with mathematics at APG and shares the Les Charmantes story
9:00 – fundraising through plays performed at churches and the Havre de Grace High School where she comments that "there was no logic to the rules" related to segregation.
11:00 – talks about her father (Vandellia Wiliams) and a trip to a local clothing shop by way of the side door in the evening.
20:00 – her father lived on the land where APG is located – paid to leave. In 1921 he purchased 70 acres of land where she lives now. Her father's father was a sharecropper. In 1954 her mother, Hattie Ellen Brown Williams, died. Her father lived to be 100 and died in 1987.
26:00 – Catherine shares memories from her childhood.
28:00 – attending grade school (1-7) at the Swan Creek School next to a church on Old Post Road.
29:00 – walking to school – approximately one hour each way. The white kids had a school bus that picked them up to take to Havre de Grace schools.
34:00 – after 7th grade and what a "day in her life" was like as a youngster, including baseball, hopscotch, jump rope, and jacks!
37:00 – personal reactions to segregation and
39:00 – how she knew she wanted to be a mathematician and her father's influence.
40:00 – learning algebra "on the sly" at the Havre de Grace Colored High School.
She loved to sew so, not realizing she could do anything with math, she chose Home Economics for a college major. But knew that wouldn't work as a career because she hated to cook!
42:00 – the wife of one of her brothers suggested she consider math as a major.
Meeting a black woman mathematician at APG. It took over a year before APG accepted her.
43:00 – worked as a mathematician at APG for 18 years.
45:00 – retirement – but not before having her two boys, staying home to raise them, then returned to school and her career. Learning FORTRAN and working at the Department of Army in Essex, MD, followed by working with computers at the Treasury Dept.
46:40 – special moments and wisdom to share. She realizes that had she known about 'architecture,' that may have been a career she would have pursued.
49:00 – discusses the book and movie, Hidden Figures, and the story of the first Black woman to work at APG.
Catherine was a joy to interview. She's so humble considering her accomplishments. I'm so glad that Pat Cole helped me to connect with Catherine.
Our 'casual historian' is always waiting for your stories and any memorabilia you may want to share.
Please SHARE these posts and SUBSCRIBE to his youtube channel.