Those who remember Virginia will definitely understand when I was told by Amanda McFadden, "If you want to know anything about the City of Havre de Grace, ask Virginia Wetter."
This amazing woman definitely knew a great deal about Havre de Grace. She was a woman before her time in many ways. When her husband unexpectedly died in 1960, she was left with three children – ages 15, 14, and 12 – and a radio station to run. And run it she did!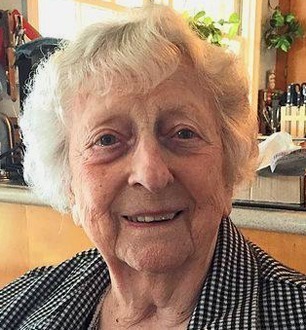 Virginia Wetter
b: 1919
d: 2018
Interviewed 2016
Well, my mother always said I was the result of the "false Armistice."

from interivew with Virginia Wetter on Sept 9, 2016.
Around 6:30 Virginia shares the name of our city "Havre de Grace." Following she talks about Christmas Dinner at Hecht's Hotel and tea and cinnamon toast parties – ooooh, a really cute memory. Later she discusses the 'old Route 40' and how wonderful the Havre de Grace Race Track was.
Following her husband's death (Jason Thomas Pate of Atlanta, GA), she became the chairman and CEO of the Chesapeake Broadcasting Corp., the parent of stations WASA (AM) and WHDG (FM). Today, WHGM continues the tradition under the owner, Steve Clendenin. It's located at the corner of N. Union Avenue and Franklin Street in the Bowman Building, operating at 1330 AM, 100.5 FM, 104.7 FM, and 107.5 FM.
Virginia has accomplished a great deal personally and professionally in her 99 years. At the age of 95, she was honored as a "Giant of Broadcasting and Electronic Arts" in a ceremony in New York, recognizing her distinguished excellence and performance in the industry. You can get a glimpse of her many activities, interests, and accomplishments from her obituary.
Each Wednesday we try to share one of the many interviews Ellie has collected. Enjoy!