The featured image is a $50 banknote, printed by First National Bank of Havre de Grace. Did you know this bank printed its own currency for 53 years? Read on to learn more (the bank notes are toward the end).
Banks offered … well, FREE BANKS!
Banks have always been pretty savvy. Our 'casual historian' George has a growing collection of Havre de Grace banks. Many, right now, are from the First National Bank of Havre de Grace. The beautiful bank building where weddings and events take place at La Banque de Fleuve (with Edel's Bridal Boutique next door) is located where First National was last located.
Listen to our 'casual historian' share a bit about his collection of banks.
A vintage Wild West mechanical bank from First National Bank of Havre de Grace.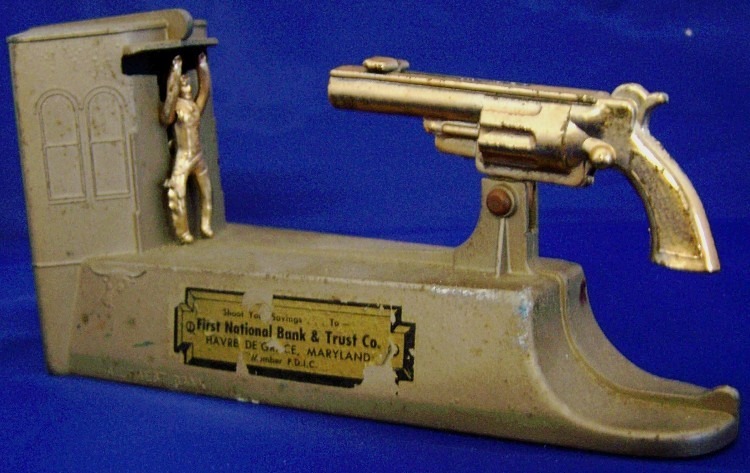 Think about it. The bank wants you to use their services. They also want you to deposit your money in a savings account. We know that's how they invest and make money, etc. What's the best way to encourage good banking habits?
Offer you a bank when you open your account. No matter what age, putting your change and a couple of bills into a bank, allowing it to accumulate, and then taking it to the bank to deposit in your savings account is a great habit. So most certainly, giving you a bank to encourage you to open an account is a perfect promotion!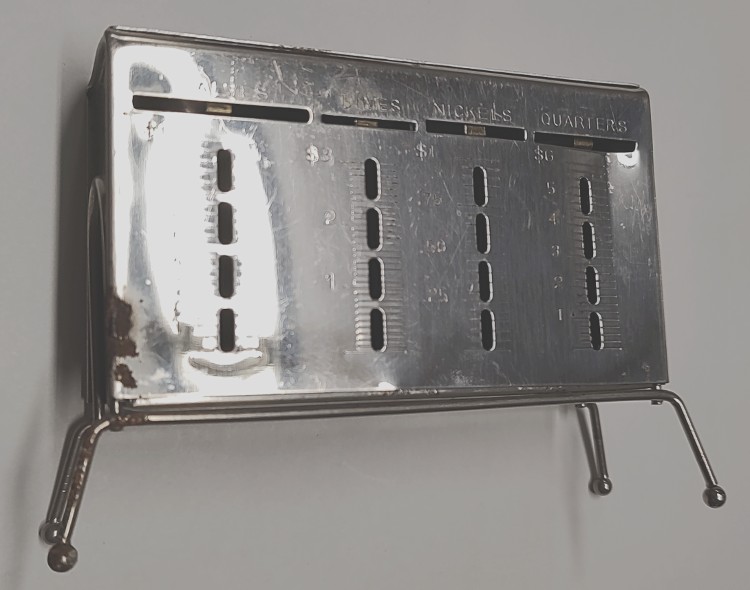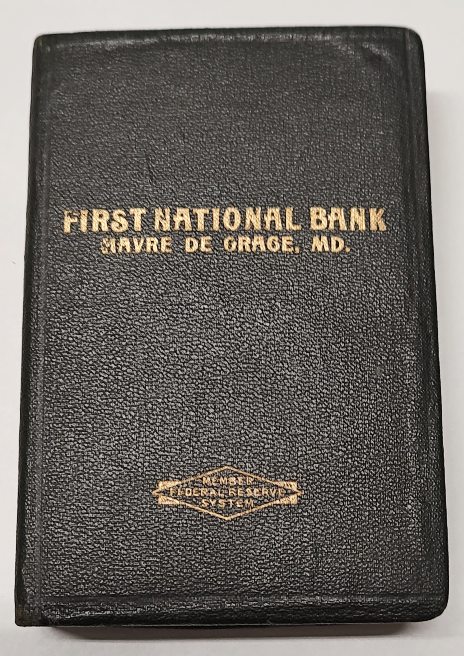 This is a 'book bank' from First National Bank of Havre de Grace. It even says "Volume I" (Hopefully, there were other volumes to encourage you to keep saving!)
On the top was a small round hole for bills and a slot for coins.
The next Havre de Grace bank looks like it might have been a tourist promotion – a wooden barrel with "Havre de Grace" written on it.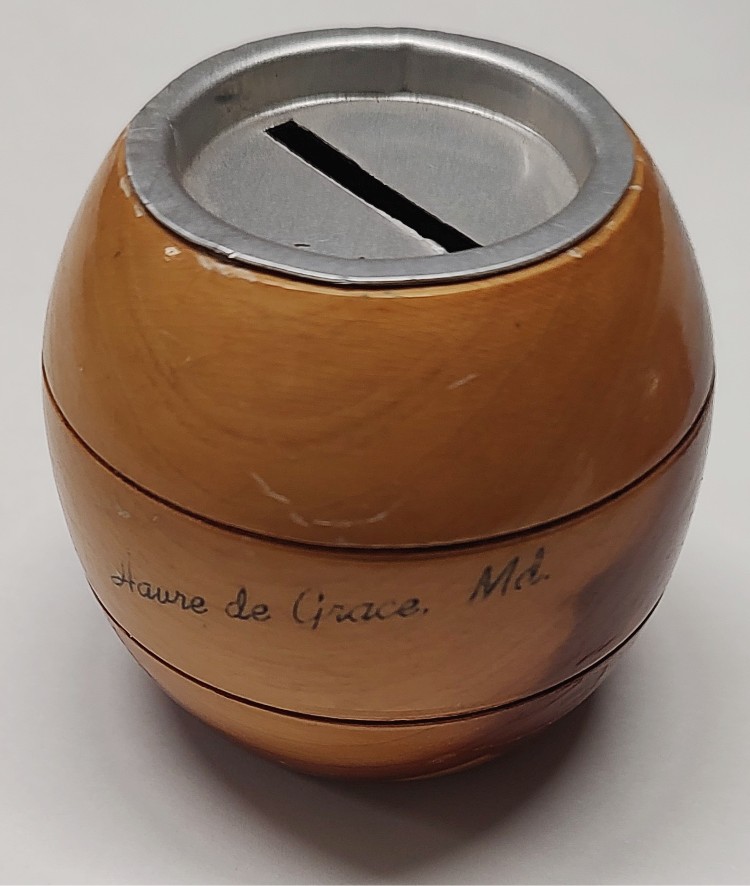 A really fun bank was this one shaped like a football (the money went in through a slot on the top). It was for the Havre de Grace WARRIORS! It's an old aluminum bank.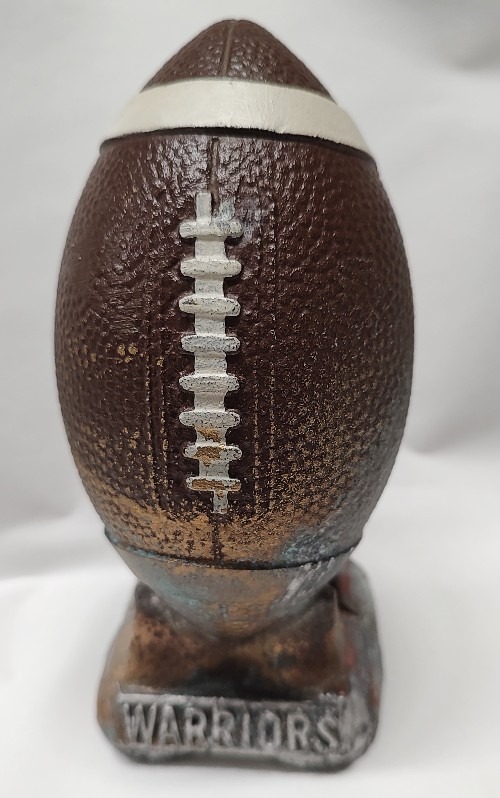 Havre de Grace Bank Printed Currency
It seems that the banknotes in the photo below were printed by the (2nd) Havre de Grace Bank. The 1st one opened in 1815 and closed in 1821. The 2nd one opened in 1844 authorized by the Maryland General Assembly. Sadly, its history was short-lived as well. It closed in 1850 According to Shagena's and Peden's book, Havre de Grace, they share the following:
The money in the bank had been transferred to the accounts of some New York individuals who had maintained a controlling interest. The Brooklyn Eagle of September 4, 1850 reported, "The President and Maryland Directors chosen by the New York stockholders on account of their lack of business habits and capacity to understand the machinery of a bank, are undoubtedly innocent victims in the hands of their more wily associates." The money was gone and those holding Havre de Grace Bank stock and bank notes were sadly the unfortunate losers.

from Havre de Grace, Harford County's Rural Heritage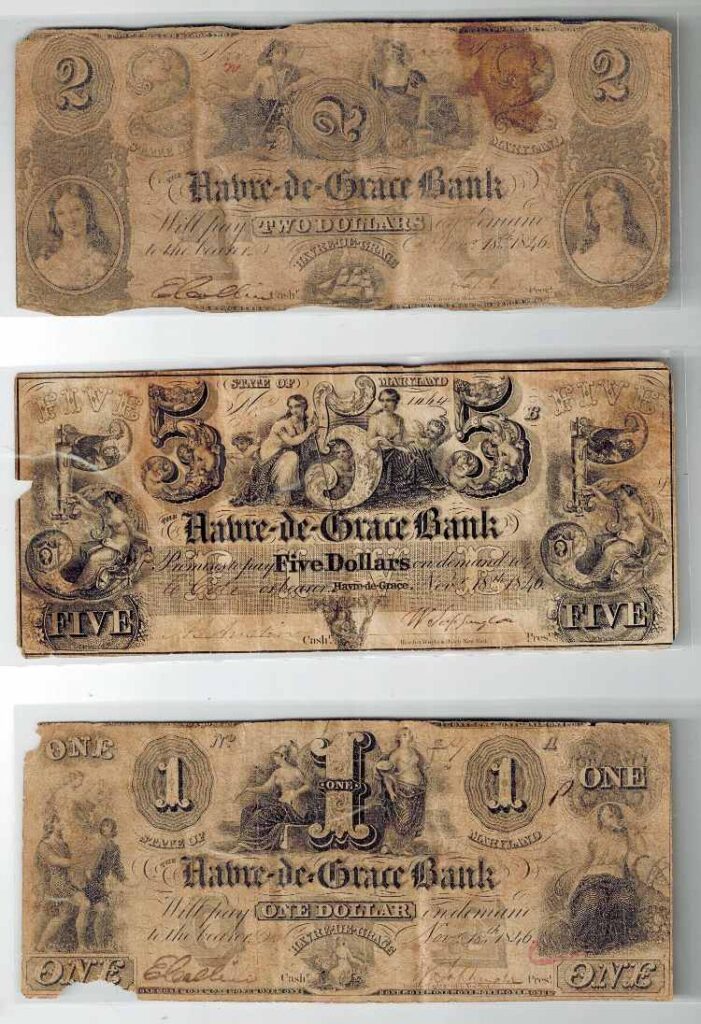 The above notes were printed by Havre de Grace Bank in 1846.
It took 33 years for the '3rd' Havre de Grace National Bank to open its doors.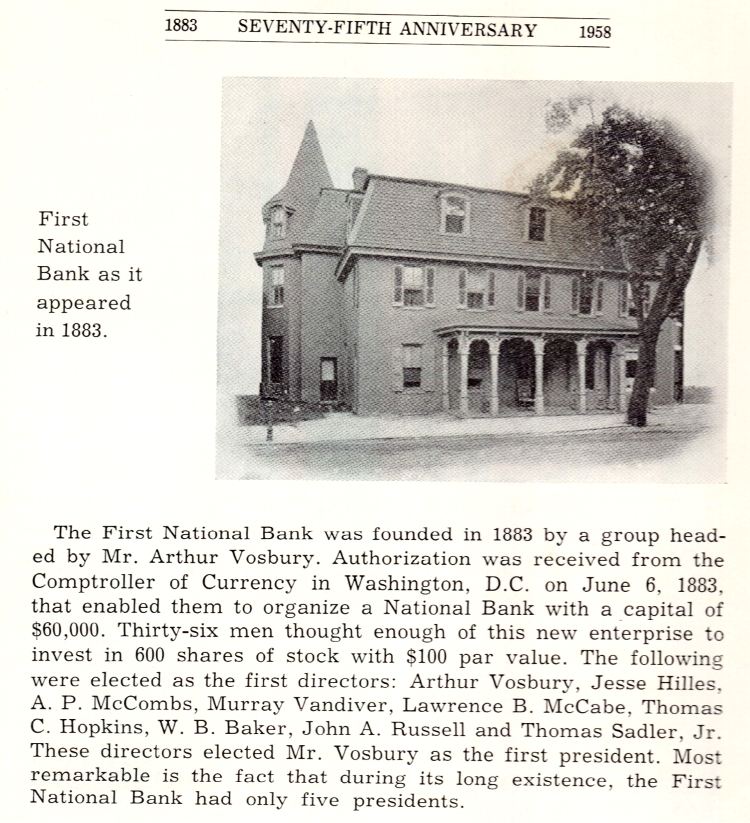 But here's some very interesting information about the 53 years that First National Bank of Havre de Grace printed their own currency.
This time they were successful. And in 1956 they merged with Havre de Grace Banking and Trust, becoming the First National Bank & Trust Company of Havre de Grace.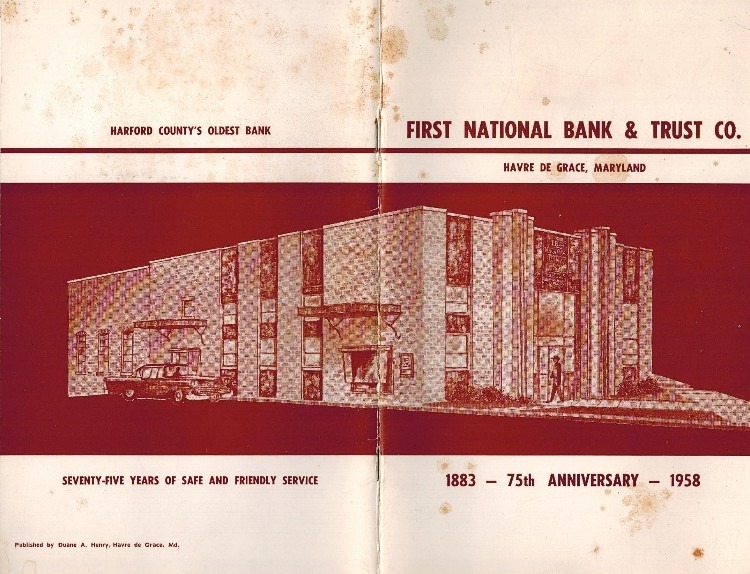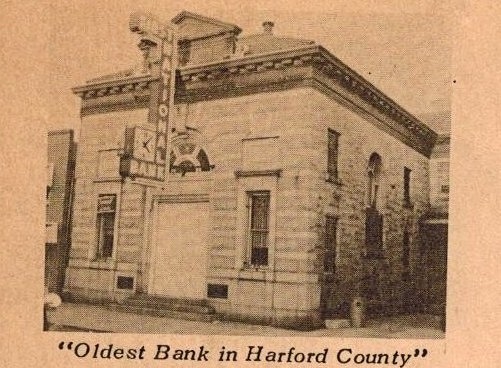 There is more to our banking history that we'll share in later blog posts. Our focus in this post was collectibles banks and banknotes. Below is a photo of Citizens Bank which would have been at the corner of North Washington and Green Street at St. John St.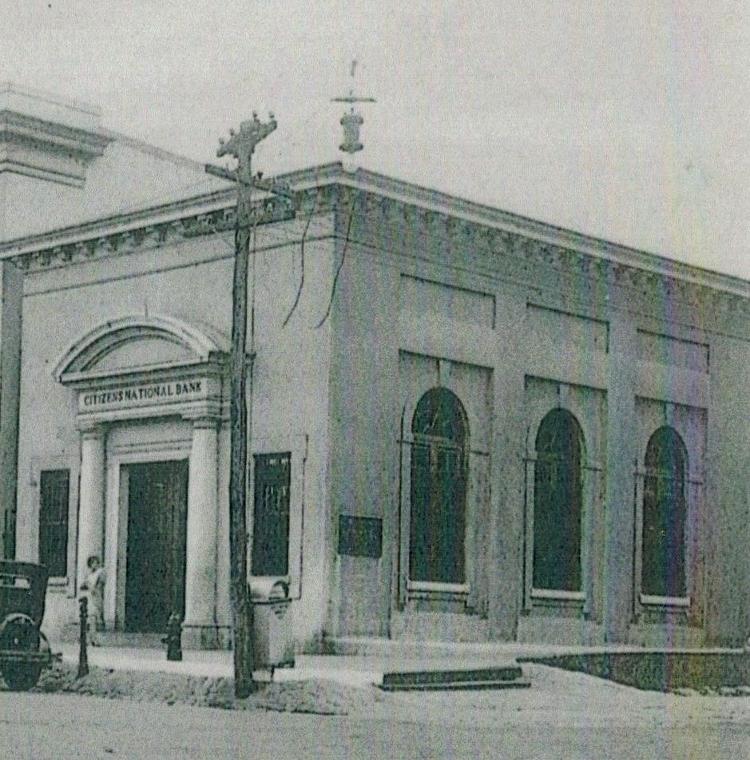 This is just the beginning of our 'casual historians' bank collections. If you have photos or papers you want to share (or allow George to make a copy), he'd love to hear from you. Of course, if you have any memorabilia, he definitely would love to chat.
Remember, don't throw the Havre de Grace 'stuff' out when you're cleaning out a home, settling an estate, or just 'downsizing,' without checking in with George. Don't give him cause to cry!!!
Our 'casual historian' is always waiting for your stories and any memorabilia you may want to share.
Please SHARE these posts and SUBSCRIBE to his youtube channel.