The featured image shows paper fans from Bullock's Mortuary and Mitchell Funeral Home.
Bullock's Mortuary / Lisa Scott Funeral Home
Elmer E. Bullock, an African American, owned the Mortuary and operated it from 1928-1948. Prior to Bullock, Arnold Beard operated the funeral home. This was located at 556 Lewis Street. It is now operated by Lisa Scott and is listed as 552 Lewis Street.
Pennington Funeral Home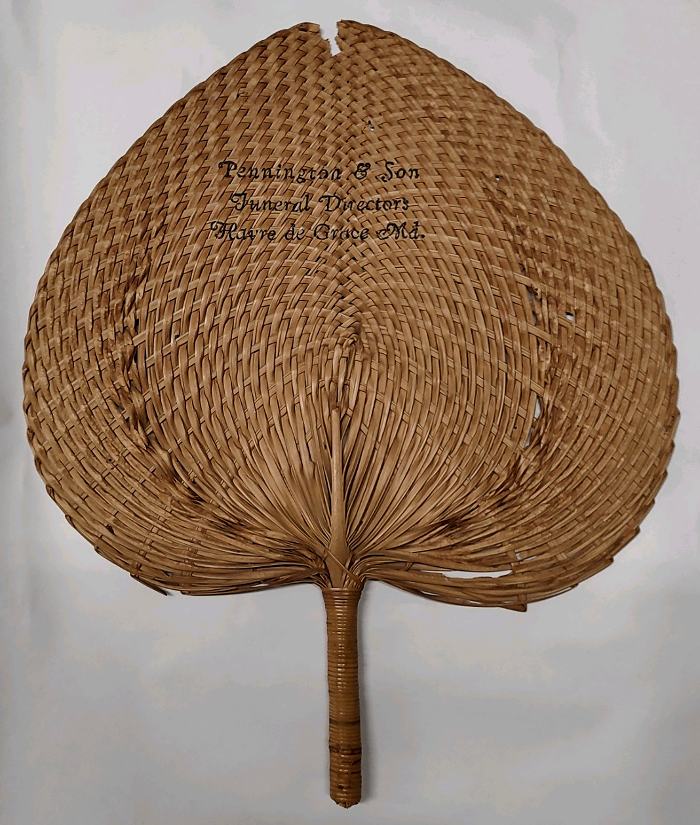 The fan in the cover photo of our video is from Pennington Funeral Home. Pennington's Funeral Home was at 225 South Washington.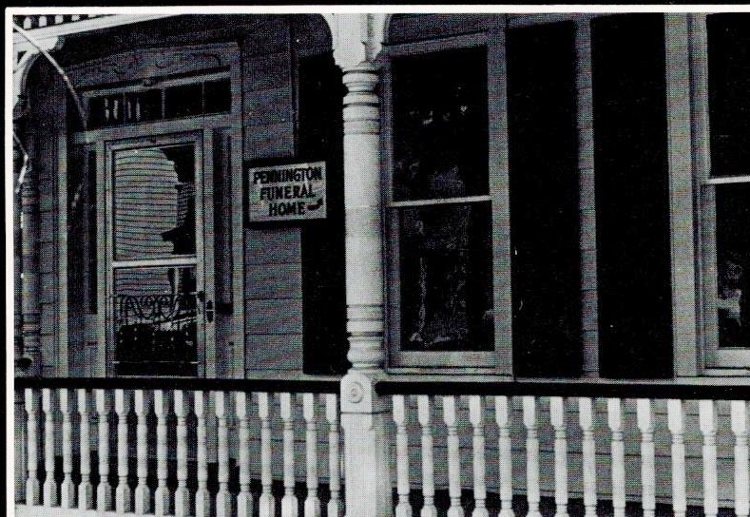 It's important to note that the original location in the early 1800s was at 552 Pennington (then called St. Clair) and Freedom Lane (then known as Freedom Alley). It has since been demolished. The 2nd location was at 225 S. Washington Street.
Below is a Pennington & Son funeral home ad from 1941: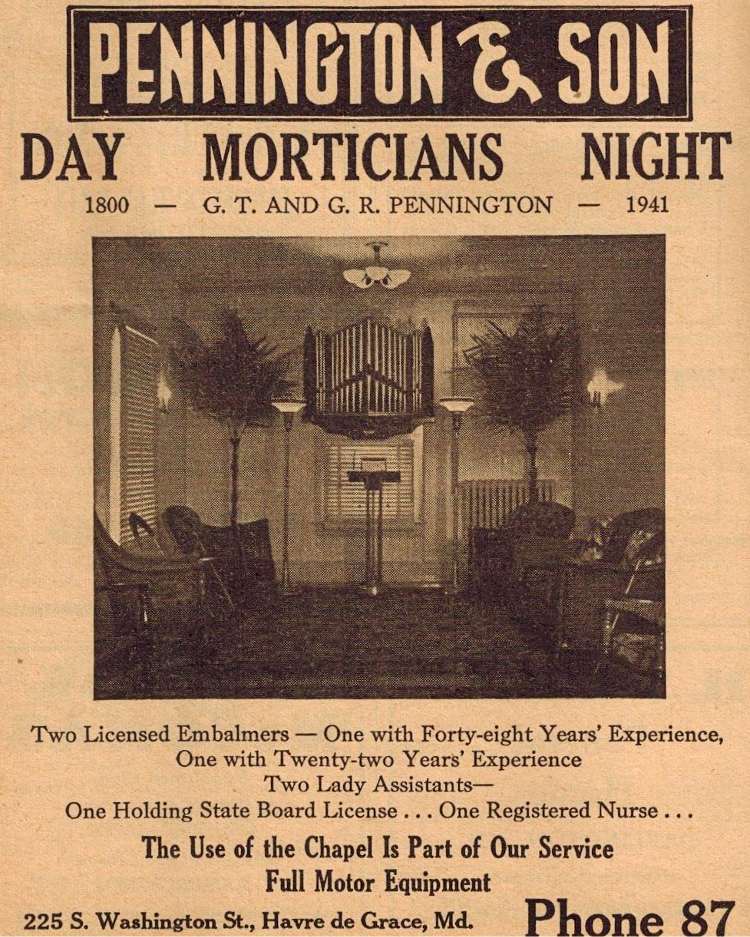 A Slight Detour…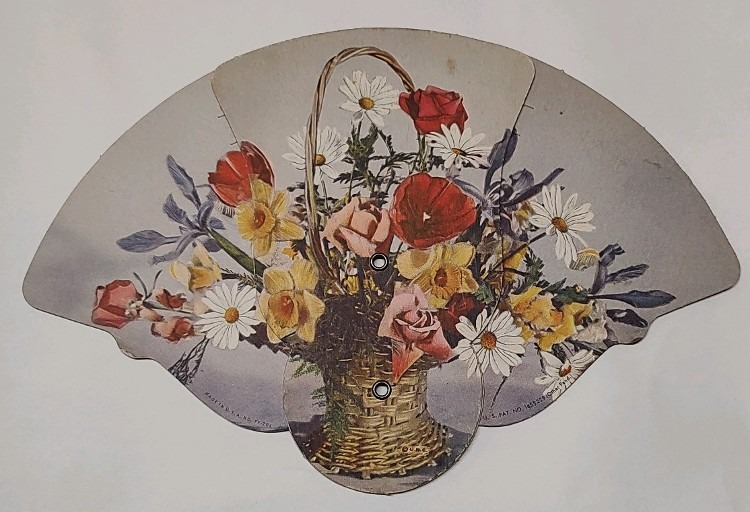 We found this fan from Mitchell's Florist to not only be beautiful, but interesting advertising since it's a great service for the Funeral Home as well.
R. Madison Mitchell
R. Madison Mitchell is most widely recognized today as a decoy carver. CLICK HERE for his obituary and a fine article.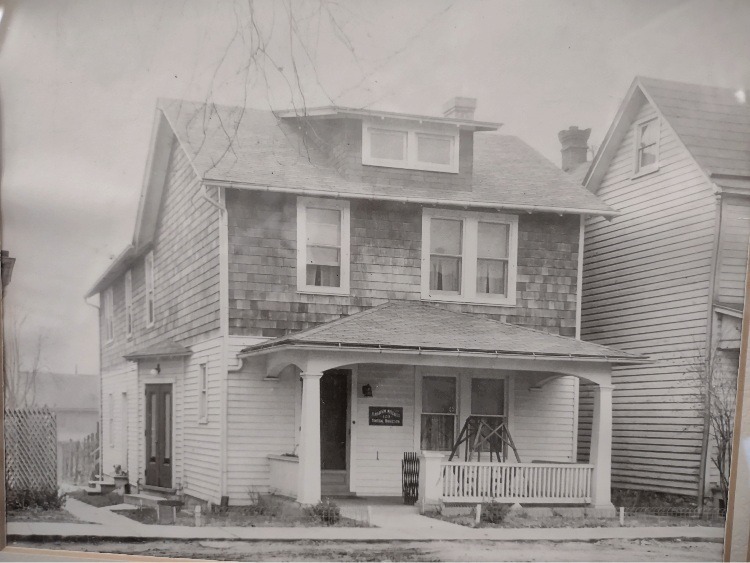 It's interesting to note that R. Madison Mitchell learned the trade from his great-uncle, E. Madison Mitchell, at a Baltimore funeral home. Then R. Madison earned his license and opened his own business in Havre de Grace.
R. Madison's daughter, Madelyn (Mitchell) Shank, also became a licensed mortician and worked for her father. She was the first woman in the state to earn a Mortician's License (1950).
In 1987 it became the Mitchell-Smith Funeral Home.
Zellman Funeral Home
In 2007 Fred and Tara Zellman bought the Mitchell Funeral Home and operate it as Zellman Funeral Home. They recently purchased the Bayou Restaurant location on Route 40 (Pulaski Highway) and will be moving their business to the new location soon.
Hopefully, you watched the video to the end where our 'casual historian' shares a bit about R. Madison Mitchell's 'jar of Duck Dust.'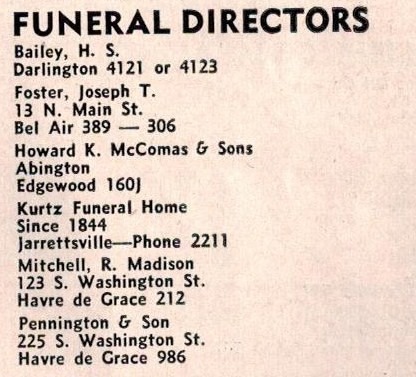 In this 1943 telephone directory, we noticed another name for Havre de Grace Funeral Directors:

H. S. Bailey (of Darlington)
If you have any information on this, please let our 'casual historian' know.
Our 'casual historian' would love to add to his local funeral home collection. If you have anything, stop by and chat with him.
Remember, don't throw the Havre de Grace 'stuff' out when you're cleaning out a home, settling an estate, or just 'downsizing,' without checking in with George. Don't give him cause to cry!!!
Our 'casual historian' is always waiting for your stories and any memorabilia you may want to share.
Please SHARE these posts and SUBSCRIBE to his youtube channel.