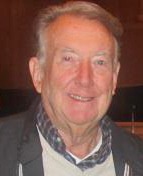 Cecil Hill, Sr. (b) 8/10/1940
interviewed 2016: One of the exciting aspects of getting these interviews is that you always learn something unique about a person.
Cecil loved growing up in Havre de Grace and really enjoys sharing the highlights from his childhood. His memory of details is outstanding – right down to phone numbers when they were 3 and 4 digits.
I guess I remember 554 Bourbon Street where I was raised. I remember riding a 2-wheel bike, when I learned how to ride a Roadmaster bike, on Bourbon Street. There were no curbs and gutters on either side of the street. You just rode down a path in the center of the street. A car would come by and another car would come by.

from Cecil Hill Sr interview
Cecil Hill Sr. shares a part of his career path that absolutely blew me away. It also proves that if we live a long life, we will have a number of twists and turns along the way.
This is only an excerpt. The 50-minute full-length audio has even more details. Plus, I hope to interview him again. Enjoy this interview.
Warmly, Ellie