b: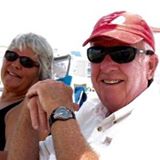 Gary and Barbara Pensell
Gary:
b: 9/26/1941
Interviewed: 9/8/2016
Note: photo taken from Gary's fb page.
Most of us know him as the owner of Tidewater Marina (well … before his son Garrett took the helm).
The interview reveals more – as do all of our interviews. Gary loved boats from a young age. Listen to him mention the oarlocks his grandfather put in the front steps of the house so Gary could "row for miles." (around 4:04) He shares a bit about family, jobs as a kid, school, buying his first car, helping his dad build Tidewater Marina, and later, buying it from him.
You'll hear Barbara add some thoughts and notice how much of a team they really are. Creative, hardworking, entrepreneurial business folks, and real assets to our community.
You can learn more about the property at 100 Bourbon Street from Marita O'Connell's Historic Havre de Grace website.
Look what I found – a 1981 interview with Gary Pensell and David Wells, a well-known local artist on Focus Delaware!
Each Wednesday we try to share one of the many interviews Ellie has collected. Enjoy!