With our 'casual historian's' "Ho, Ho, Ho…" we discover an artsy and touristy collection! We know there are lots more to be found. Watch the video, check out the photos, then check your attics. Have you some Christmas in July that you just might want to share with our Havre de Grace History MuZeum?
Throughout our shopping area and in our museums, you'll find ornaments created to celebrate our city, community, and history! Share your favorite ornaments from Havre de Grace on our Facebook Page.
George, the Havre de Grace casual historian, shares ornaments created for JoRetro's Vintage Shop (home of mid-century modern furnishings and accessories). For sure, there are many others available.
In our photo gallery, you'll find ornaments created by the Ladies of the Lockhouse Museum, and the Havre de Grace Arts Commission.
Click on the pic to enlarge image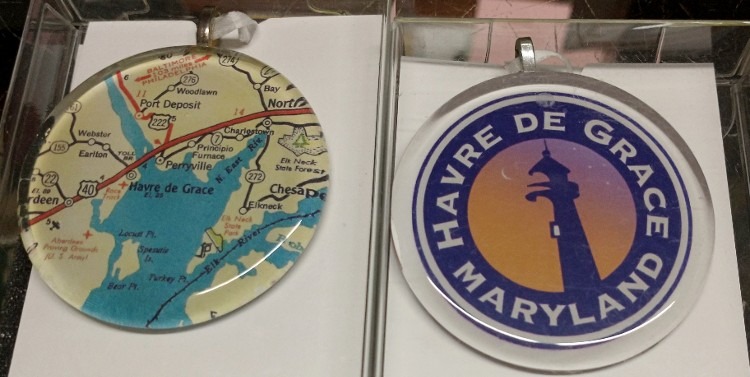 The following links will give you details on the historic buildings, thanks to the detailed and generous work of Marita O'Connell.
Throughout the years, many museums, organizations, and art groups have also created Christman Ornaments. You'll definitely want to browse our downtown shops, art galleries, and museums to find your favorites for yourself or as a gift!
After all, it's CHRISTMAS in JULY!!! There may be store sales or special events to add to your shopping pleasure!
Of course, our 'casual historian' would love to add more Havre de Grace Christmas ornaments to his collection for his Havre de Grace MuZeum. He'll even be happy if he can take a picture of one that maybe you don't want to part with!
REMEMBER, don't throw the Havre de Grace 'stuff' out when you're cleaning out a home, settling an estate, or just 'downsizing,' without checking in with George. Don't give him cause to cry!!!
Our 'casual historian' is always waiting for your stories and any memorabilia you may want to share.
Please SHARE these posts and SUBSCRIBE to his youtube channel.