Just one of many Ice Houses located in and around the Havre de Grace area, the above photo is American Ice House in 1904.
Ice on the Susquehanna
In Havre de Grace, ice often froze all the way across the river to Perryville. We have many locals who can still talk about ice skating to Perryville. A few remember sleighs being drawn by horses along the shore on the ice.
The double-decker bridge seen in the background has a colorful story. Read why the locals called it "The Gold Mine Bridge." CLICK HERE for a great story.
Ice Harvesting
Have you ever wondered how they kept things cold in the 1800-1900s? We're so used to pressing the lever on the fridge for ice water and ice cubes, or at the very least getting them from an ice cube tray in our freezer compartment.
But before refrigerators, ice was harvested in the winter to place in ice boxes in your home or business. It was a grueling task for man and horse. Sawing ice chunks, and lifting them with tongs, to be delivered to the nearest ice house was an extensive operation. It's challenging to imagine tens of thousands of tons – yes tons – of ice collected in such a manner.
Listen to George, our 'casual historian,' share a brief description in the video below:
The Ice Could Also Be a Serious Problem!
Before we had a railroad bridge, the cars were taken to the end of now Pennington Street where the cars were loaded on ferries to be taken to Perryville. In 1852, the Susquehanna River at Havre de Grace froze solid.
To meet the needs of the railroad, travelers, and property, railroad track was laid across the river and the cars were pulled by horses across to Perryville. When you think about it, this fete, which lasted for 41 days, was both ingenious and amazing, especially since no one was hurt nor any property lost.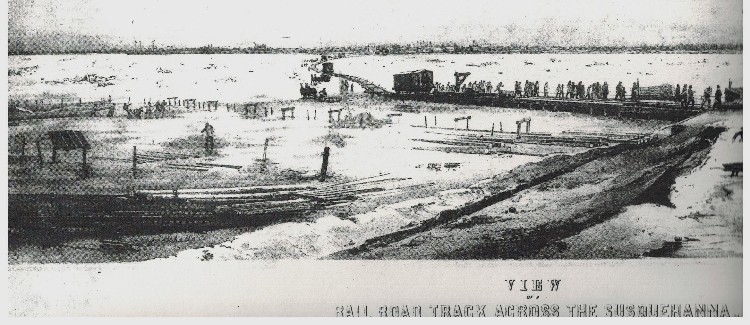 CLICK HERE for an excellent link to information for the above photo.
Ice Jams
We've all seen photos of the ice jams: boats toppled and frozen in the ice, people standing on huge blocks of ice, buildings along the river moved off their foundations from the ice. Like everything with Mother Nature, she can be kind – and she can be treacherous!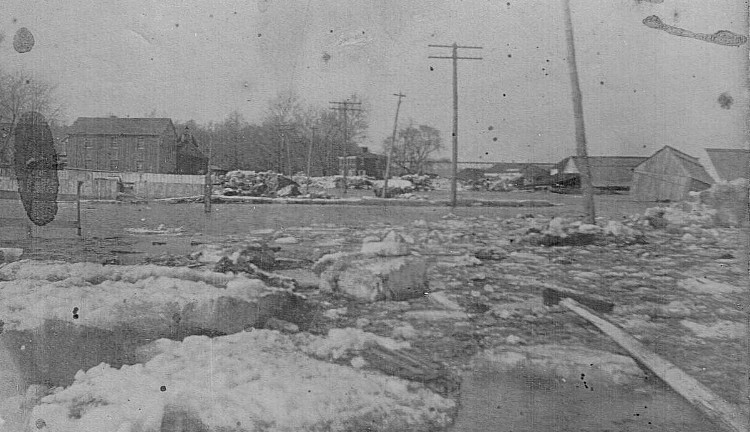 Bob Lackey, in his book, Pulaski's Canal, shares a vivid image of dealing with an ice jam breaking up. Like a tidal wave or a raging river in a flood, it is frightening and extremely destructive. Consider this:
The story is Isaac, the young son of Ben, telling the story of how his baby sister drowned in the river.
(Isaac) By the time we got to the little bridge, the whole yard was flooded with ice flow, blocks bigger than bales of hay, and you couldn't even tell where the creek had been except for the bridge.The water was almost knee deep,and pieces of ice were grinding against the side of the house and the bridge. There were some men on the other side yelling for us to hurry. Ma and I were almost over the middle of the bridge when it cracked and twisted in the middle. It went over before we could get to the other side.
… Everything was spinning around, and then we were in the water. We weren't more than six feet from the bank, but the ice flow pushed so hard we couldn't stand up. We rolled in the water and I got hit in the head with a big piece of ice and then started trying to swim to keep my head above water.
… She was already under, but I saw her hand holding Alisha (his baby sister) out of the water and then we were all pushed down again.

from Pulaski's Canal, Book 1 of the Pulaski Saga by Robert F. Lackey
(available at Bahoukas Antique Mall)
We highly recommend this series of books. It's historical fiction giving life to so much of our history while creating a great story. Besides, don't you want to know what happened next?!?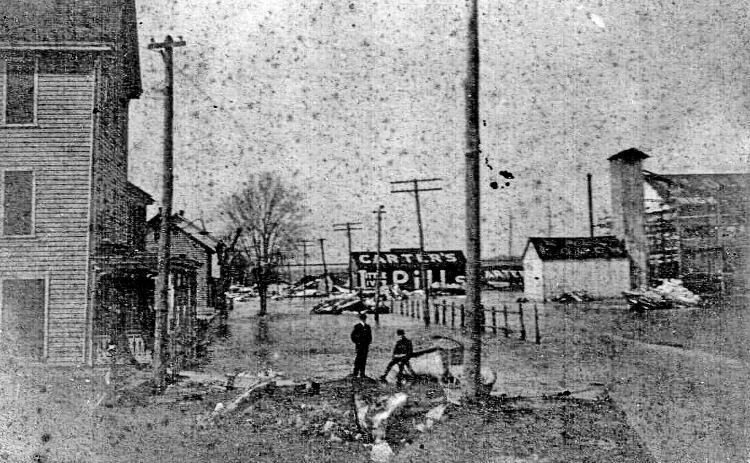 A Brief Listing of Ice Houses in Havre de Grace
It was quite a challenge trying to discern from various articles, websites, and old maps, a bit of a chronology of ice houses. We're sure this isn't all of them. But this will give you an idea of the thriving days of Commercial Ice Houses in the area:
1860s
William Oler & Co. had four large ice houses at the canal basin in Havre de Grace, which is the area of the Lock House Museum.
These houses were 80 ft long x 30 ft wide x 30 ft high.
1878
An insert from Martenet's 1878 map shows Morgan's Wharf where Jacob Frederick & Son of Baltimore built a new 130′ x 70′ ice house.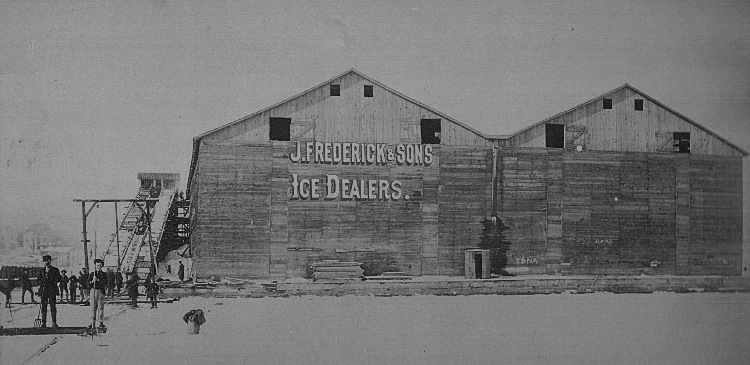 It appears this would be where the Havre de Grace Marine Center is now.
ca. 1889
According to Hoppers Map, Frederick & Son had 2 locations: the one mentioned above and another to the south off Water Street.
1894
Consumers' Ice House replaced the Frederick & Son location to the south. We don't find any other reference to Morgan's Wharf and their ice house. But there was an ice house on the river edge of what is now Havre de Grace Marine Center. (See Abbott's Ice House below.)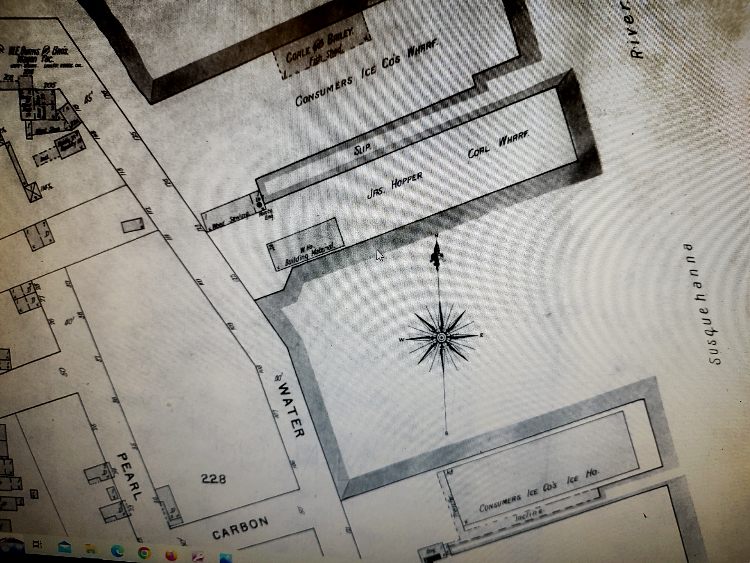 1899
Consumers' Ice House is shown here, with a wharf just north at the present-day location of the Havre de Grace Marina.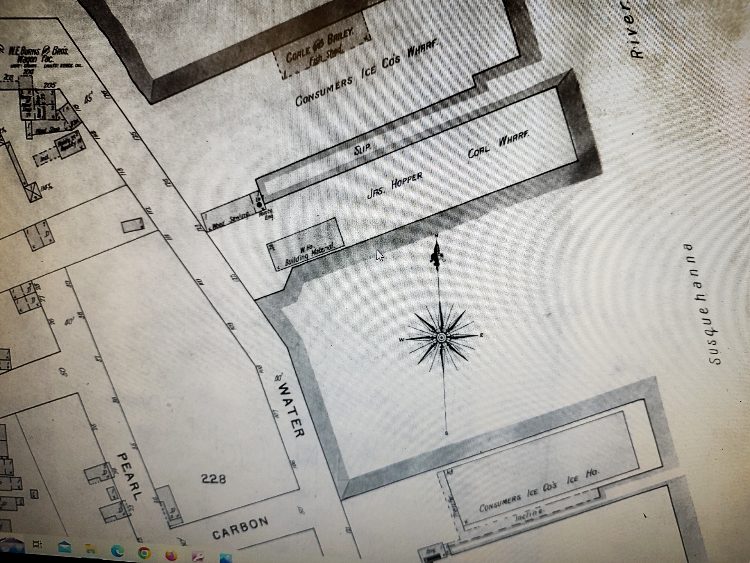 1904
Consumers' Ice House changes to American ice House.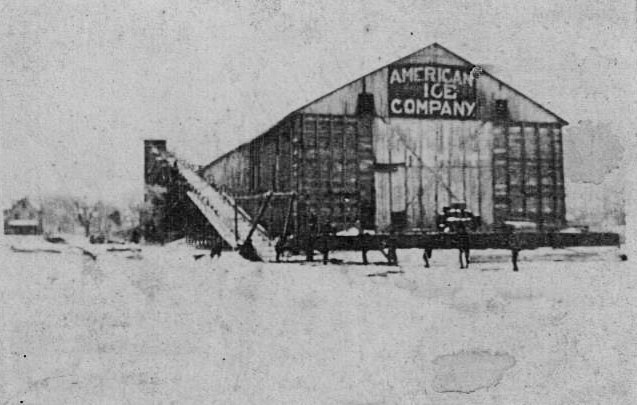 1910
There are two interesting bits of information from the map of 1910.
First, take notice of Albaugh's "Ice Factory" at the foot of Franklin Street next to the water filtering plant.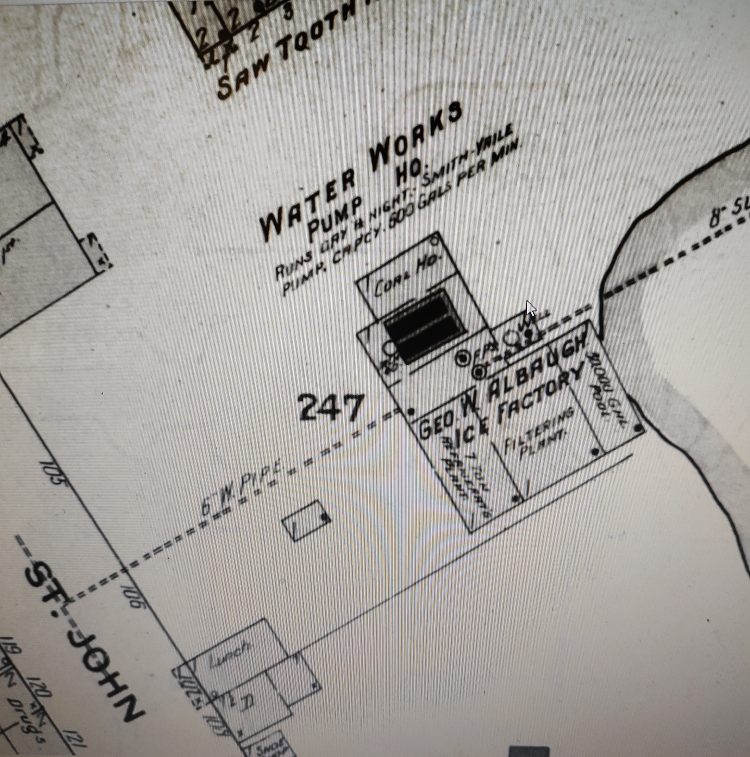 The insert to the right on this map of 1910 shows an Ice House just north of the Lock House.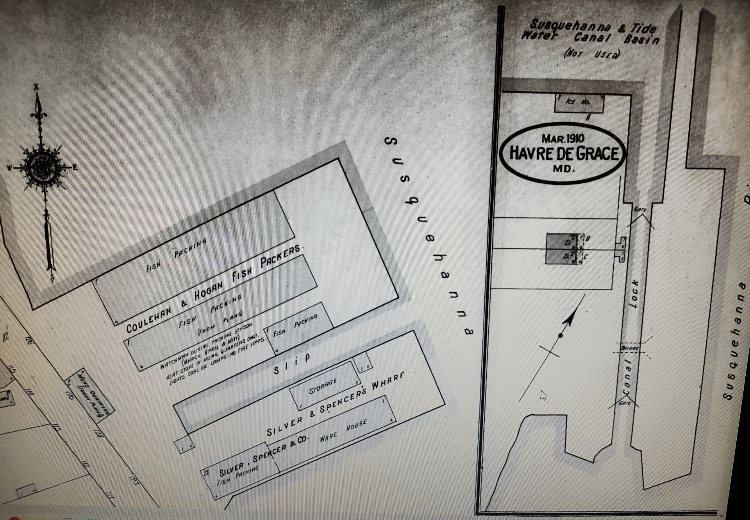 1917
Abbott Bros. buy American Ice. There are quite a few photos of this company and a number of people who still can tell stories of having ice delivered by the Abbott Bros.
1921
Abbot Bros. expanded its operation by building a new ice house processing center where the Havre de Grace Marine Center is today. This building sat parallel to Water Street and is still there. Stop in and take a peek!
The colorful formstone one along Water Street makes up the main part of the Marine Center. Built in 1917, this was the processing facility for Abbott's Ice House, and now has the original ice block processing machine on the front porch. Several of the original doors of the ice house remain in place. Many of this building's exterior walls are at least a foot thick and filled with cork, as are many ceilings.

from Marita O'Connell's site: Historic Havre de Grace
And Now – the Icy Ball
This amazing contraption can be seen with many other items in the Havre de Grace History MuZeum at Bahoukas Antiques. If you haven't watched the video above, do take a minute to view it. George explains how this invention of the 1920s Crosley Icy Ball worked.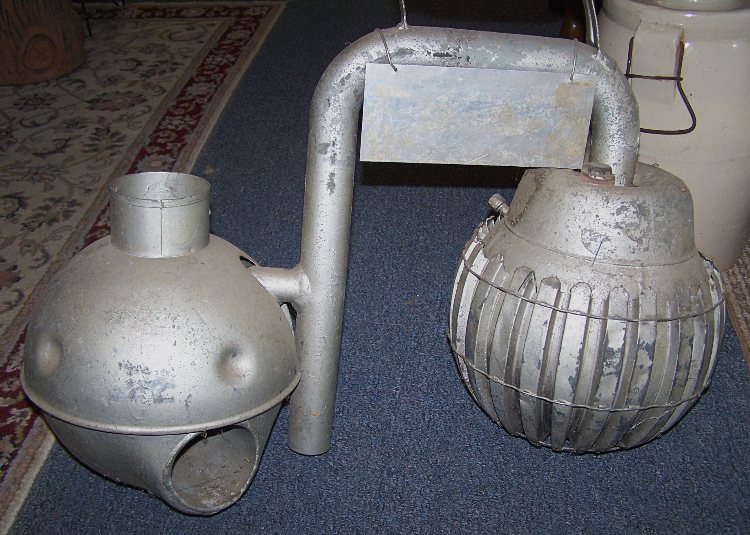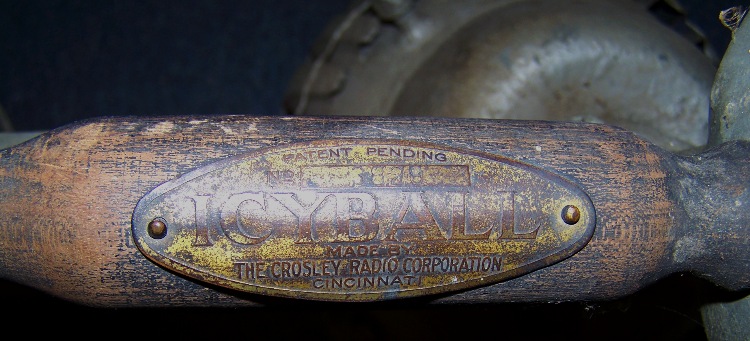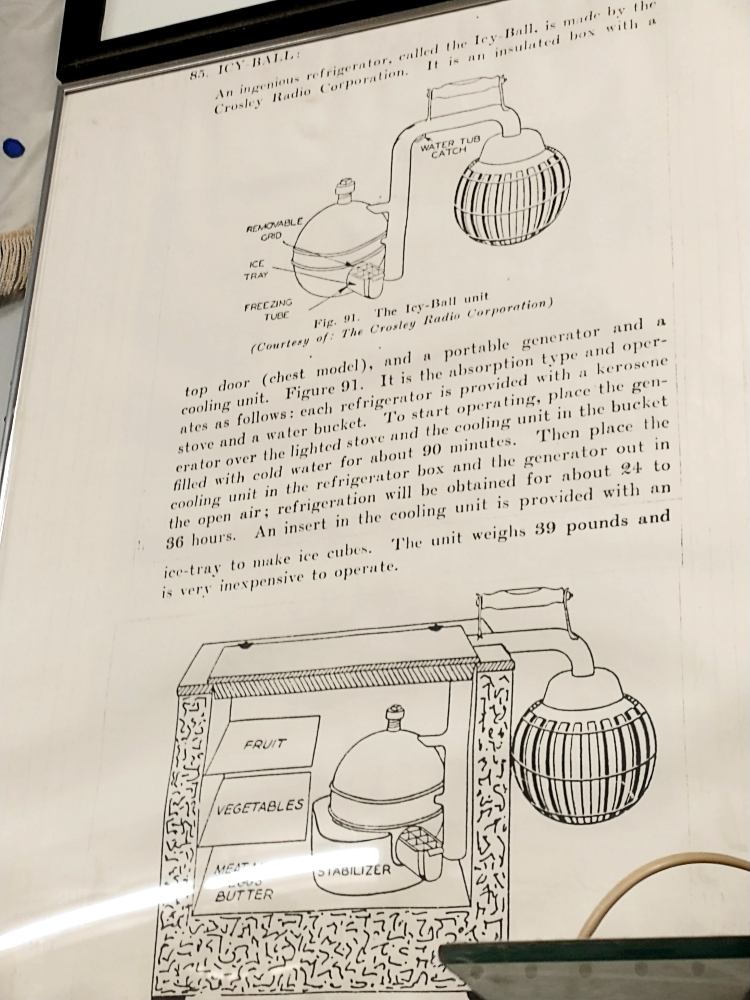 You might want to CLICK HERE for even more information. It's a fascinating – and heavy – piece of equipment.
ADDED INFO after the original post
Just discovered another ice house from the book, Havre de Grace – an informal history (ed. by Peter Jay 1994). It's referencing the area where Seneca Cannery Antiques is today:
"Stephen J. Seneca and his younger brother Robert were owners of one of the largest canning operations on the Chesapeake Bay. Their property was located at the water's edge, and filled the space between St. Clair (now Pennington) and Green Streets.
"The site was almost entirely self-sufficient. Seneca owned his own wharf. The plant had free access to the railroad siding, where trains rolled down toward the river only a few feet from the main warehouse. Holdings here included a tin-can factory, a cannery, Polish employees' housing, two warehouses, a shad-packing shed, oyster house, ICE HOUSE and fuel storage…"

from Havre de Grace – an informal history (ed. Peter Jay 1994)
So there you have a substantial amount of information regarding the ice industry in Havre de Grace. We take our hats off to Marita O'Connell who built the HistoricHavredeGrace.com site and Jack Shagena, Jr. and Henry C. Peden, Jr for the numerous books they've researched and printed. We used their Heavy Industries of Yesteryear, Harford County's Rural Heritage book for a good deal of the background info. Plus Hopper's Map and Sanborn Insurance Maps.
And remember, Robert F. Lackey's Pulaski Saga series is an excellent set of historical fiction. We'll share a bit more about the first in the series, Pulaski's Canal, in a future post.
We will list these resources on our sidebar. Do take a peek. There's amazing information available!
Stop in and chat with our 'casual historian.' George is always ready to share a story or two, but also is waiting to hear what you might have to share.
Remember, don't throw the Havre de Grace 'stuff' out when you're cleaning out a home, settling an estate, or just 'downsizing,' without checking in with George. Don't give him cause to cry!!!
Please SHARE these posts and SUBSCRIBE to his youtube channel.